In case you missed it(I hope not We flooded your timelines  yesterday with info)LFC had their first preseason game of the year Well technically 2nd preseason game of the 2014/2015 year v Daniel Agger's old club in Denmark Brondby.
LFC fielded a really young squad. Was nice to see young guns like Rossiter, Suso, Smith etc get a start.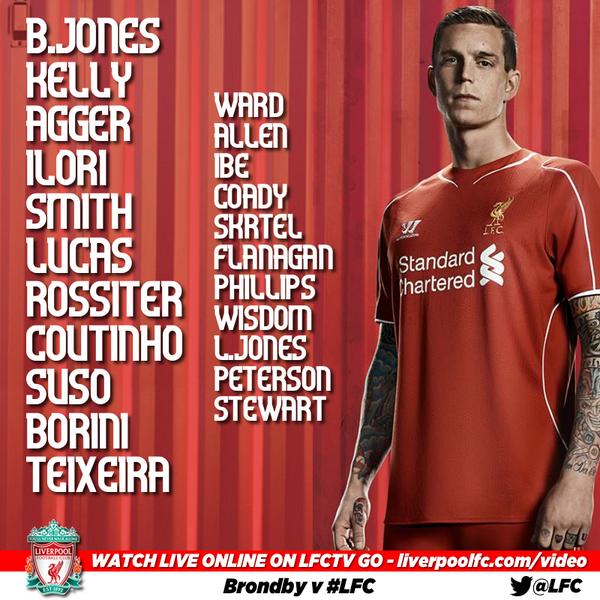 Ilori went off early with a little injury, sad to see. Kid looks huge on the pitch(He's 6'3 so makes sense) New academy signing Kevin Stewart came in. He didn't look to comfortable.
One player who really stood out in the first half  was Lil Magician Phil Coutinho (thanks to Mostar for putting that video together)The kid was looked like he was playing street ball with all of dribble tricks & juking he was doing. He had some beauty passes(Borini was close to connecting with a couple), but his one dark spot was he keeps shooting wide every single time.
The 2nd half saw 10 substitutions to start it off. After only 3 minutes young Jordan Ibe showed why he is one of the most exciting talents we have. Blazing up the wing then crossing it from inside the box to Kris Peterson for the score. Thank you MoStar again for the video of Ibe v Brondby.
Brondby scored in extra time though to snatch win. Not the result you want but it was good for the young players to get some time in & was good for the players to work up that fitness. It is always fun to see the young players & see the potential future of LFC.
Some quick News: We have a couple Indy Reds who can't make it or have extras to the Chicago match. One set of 4 behind the goal  face value $110 each & another pair behind the benches face value $140 each.
We also have a new Fantasy League you can join. It is Free. It is sponsored by EA & EPL and is on the EPL website. It is fun to do, gives some nice bragging rights, plus it gives you a chance to watch some other matches too. If you've never played before don't worry it is pretty simple. You have a certain amount of money to spend & each player costs a certain amount & you can only have 3 players from one team on your squad. I(Nile) had never played before & I played last year, I was pretty much extremely lucky I think but I won the Chatham Tap league It is fun.
Last bit of info, LFC asked me to share their event page for the Chicago match on their Facebook page. If you have the Facebook join up to the event.
-YNWA-
Nile