Here it is our first Indy Reds Fan Focus. In this series we will feature an Indy Red each week so you can get to know your fellow Indy Reds better & learn how other folks came to know & love this wonderful team.
First up is one of our more seasoned Indy Reds, Bryan Smith. The guy is awesome to sit down & have a beer & chat about LFC with, lots of knowledge of the club & all around great dude.
Name: Bryan Smith 43 Married, father of 3. Northsider. Twitter @BryanSTL
How did you pick Liverpool as your team?  I discovered the EPL in the early 90's by watching the weekly highlights show on Fox while working a job travelling the PGA Tour from city to city. What a league! Faster paced than anything I had ever seen including the World Cup, physical yet incredibly skillful, and crowd passion off the charts. The Kop in particular was mesmerizing, the team exciting, and a young striker I will mention later helped seal the deal. Discovering the rich club history came not long after, and was icing on the cake. I'm a big Beatles fan too which was a nice coincidence.
 First LFC memory? I played a lot of CYO soccer in St. Louis & some travel soccer for 5 years. Even when I was about 10 we had heard of the Liverpool sides in the late 70's and 80's winning nearly everything. All I knew then was LFC won a lot, and wore red. Robbie Fowler's 4 minute hat-trick would be my first LFC memory if this were a Hollywood script. My future wife Jen would have been the bartender at the pub I was watching the game at, and all I ever wanted to do with my life was to rid the world of youth sized blue shirts in third world nations. She would save me and some bad 80's ballad would play.
 Favorite LFC memory? Istanbul is the obvious choice here, but I will always remember watching the 4-3 wins over Newcastle alone at my apartment on the south side in both 96 and again the next year. Recorded on VHS tape back then, I would watch late into the night. Incredible matches, I had to shout into a pillow at about midnight to avoid waking the baby. I knew of no other Indy Reds, and watched matches at home only. I remember trying to justify why I was so interested in this club, why I was on the edge of my seat for matches thousands of miles away. I couldn't.
 Do you have any superstitions or traditions you do/have for each match? Not really, unless you count score watching? My current job allows me to watch the big matches live 95% of the time, but if not, I will never look up a score if I'm recording it at home. The thrill of a goal is too enjoyable not to try to maximize it. I do ram my car straight into anyone I see wearing an Everton shirt. Is that a superstition or a life skill?
 Where were you during Istanbul? I was at a crowded Rob & Jay's Chippy, an authentic Fish-n-Chips shop formerly on College Ave, south of Broad Ripple. Fellow Indy Red Jim Dimitri was there too and those 6 crazy minutes were simply unbelievable. The owner Jason was from Manchester (or at least supported them), and I recall him being even more shocked than we were. I think he was genuinely entertained by us going absolutely crazy after Xabi Alonzo roofed the rebound of that missed penalty. I was supposed to be at work at the time, no way I was missing that match.
 Favorite Current Player and Why? It has to be Steven Gerrard for me. Beyond everything he has done for the club, the man has scored in the World Cup, The Champions League Final, The UEFA Cup Final, and the greatest Equalizer the FA Cup Final has ever seen. Who can match that? Rival supporters who like to bring up the fact that he slipped vs Chelsea last year or almost transferred once aren't worth my time.
 If you could meet or have dinner with any LFC player/manager ever who it would it be & why? Robbie Fowler, no doubt about it. It was his genius in the mid 90's that helped me become a LFC supporter and I'd genuinely thank him. Fowler is simply the best first touch finisher I have ever seen. He named a racehorse "Some Horse" and "Another Horse" just to screw with the race announcer! That's a guy I want to have a beer with. 186 career goals will offer plenty of material, or I can mention we named our family dog "Fowler." Well, I named it I guess.
 Favorite LFC kit ever? Mine! The 96-97 Ecru Away Kit, with Fowler 9 on the back. I've owned the kit forever, and finally found the felt name/number for the back this year after looking online for a decade plus. As for home kits, I liked last year's shirt a lot. I really liked the white accents on the collar and sleeves, finding them both modern and traditional at the same time, and I love the yellow Liverbird and LFC crest seen the past few seasons. I prefer shirts without a polo shirt collar. I was a good enough golfer to be offered partial college scholarships, I don't need my soccer shirts to look like a golf shirt, sorry.
 You are Owner of Liverpool for 1 day what do you do? Great question, I had a tough time coming up with something to be honest. I think I would try to do something about the price of tickets… for one section at Anfield. Create a program where ticket prices were affordable, say 10 Pounds, and fans without the financial clout to attend matches but could demonstrate passion for the club via some kind of application process, could attend. I think it would make for an interesting atmosphere in that section.
 Where do you go to get your LFC news/info? LFC Indy Twitter/Facebook and several other Twitter accounts and I have the Liverpool Echo and Guardian newspaper apps on my phone. I also listen to a lot of podcasts, with Guardian Football Weekly, The Anfield Wrap, and The Total Soccer show topping the list. Back in the day? www.bigsoccer.com I have not visited there in years, it was a lot of fun at one time.
 LFC have just won the league, where are you going for a celebration dinner in Indy Area? Wherever the mob exiting Union Jack wanders I suppose… If we leave at all that is. The atmosphere at UJ for the with over Man City last year was sensational. Imagine the noise if we win the league?!?! If I were going out for a proper celebration dinner, St. Elmo's or Ruth 's Chris would do. Perhaps the soup of the day will be Scouse.
Newest Signing or Young Player you are looking forward to seeing this year play? It might be a bit of a cop out, but I'll be watching Raheem Sterling close this season. Last year was ridiculous for him, teams simply could not cope and he was stunning at times. I still say he's far too right footed as it seems 85% of his touches are with his right and maybe even a higher percentage when dribbling at speed. It will be interesting to see if defenses learn to cope with him. I have a hunch they will, unfortunately. I would force him onto his left foot all day long.
 What is your favorite LFC Goal? For me it is Stevie G's equalizer in stoppage time in the 2006 FA Cup Final. Certainly he was thinking the shot was either going to go flying in the net or into the top row of the stand – there was no in between. He was suffering before that, cramping and having a hard time moving. Then an opportunity popped up and, well, you know the rest.
Have you ever seen Liverpool play live? I have not. I guess my first time will be at Anfield!
Best Local Indy Area Beer to have during an LFC match? I'm a IPA guy most of the time, so I'll say Triton's Railsplitter. I've been dabbling in some sour beers lately as well.
What other sports do you follow or hobbies do you have? I have coached youth baseball/softball for more than 20 seasons combined, and have refereed CYO basketball. I'm an avid St. Louis Cardinals fan and have attended 11 World Series Games. I get beat by my sons on FIFA on the PS3 regularly. I was unbelievable on PS1, please note. I watch a lot of NFL but if you ask me who is the #4 receiver or backup Center from any team, I might struggle a bit.
What makes you most proud to support LFC? The instant connection you have with fellow Reds. I met a Scouser when I was working in Lebanon, IN years ago, his accent was unmistakable of course. I let him know I was a football fan and simply asked him "Red or Blue." His face lit up and he shouted "RED!" I showed him my beat up Liverpool keychain and we chatted a bit, including how difficult it was to get LFC stuff in Indiana back then. The next day he came back to where I worked and brought me two cups, a coffee mug, some pens and pencils, that sort of thing. I didn't even know his name.
 Best thing about being an Indy Red? Watching big matches at Union Jack or Chatham Tap Fishers with other passionate Reds. For 90 minutes the grass does not need mowed, there are no bills at home and I don't have an email inbox. It's a complete release for me, 90 minutes shared with some fun people, linked by this great club. The idea that so many people here in Indianapolis could be drawn together, simply by being like minded about a Football Club on another continent… well, I love that.
Thank you so much Bryan for being our first guest on Indy Reds Fan Focus. Pretty cool stuff right? If you'd like to be one of our Indy Reds spotlighted hit us up on Twitter or Facebook or email us & I can send the questionnaire to you.
Alright some LFC News:
LFC have signed young right back Javier Manquillo to loan deal with an option to buy. Should be a very nice signing for the club, could send a message to Glen Johnson that his time in Red is coming to a close.
Pepe Reina looks to be on his way out signing with Bayern Munich. So he goes from one bench to another bench. Still good business, it takes a large chunk off of our wage bill that can be used elsewhere & for Pepe it gives him a chance, even if it is riding the pine to win a couple winners medals with powerhouse Bayern.
USA Tour has come to a close. Great turnout & support at the stops the club made. You can bet they will keep tapping into the USA market & hopefully will be back in 2 more years. Some good news for us as a Supporters Club is that it looks like LFC are pushing hard to get more Official Supporters Clubs here in the USA & to raise their awareness & presence more in the States, so it is looking very likely that this fall we will get a approved. Remember even though we have hit our numbers we need to, still if you Renew or buy a New LFC membership please get that membership number emailed to us so we can add you to the list & keep growing.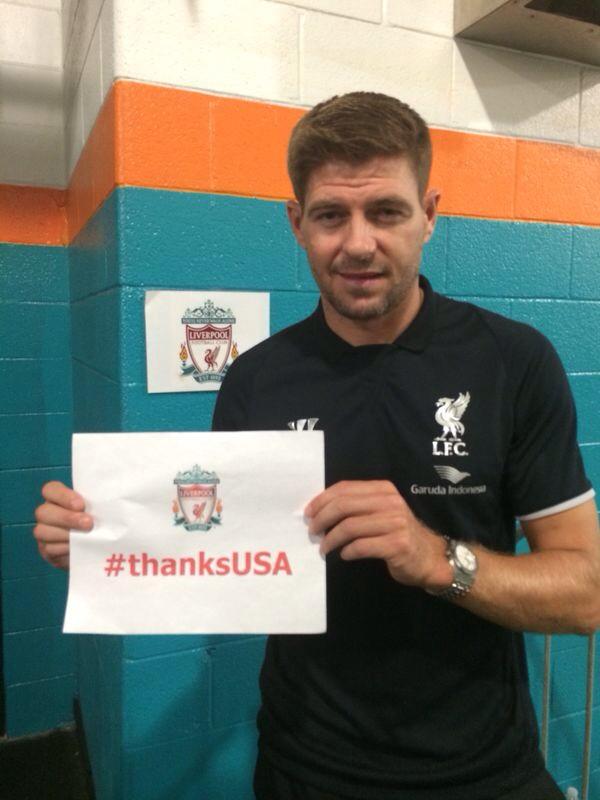 For all of our Indy Reds going to the Indy Eleven match tonight have fun, be safe, hopefully they can get a home win.
-YNWA-
Nile